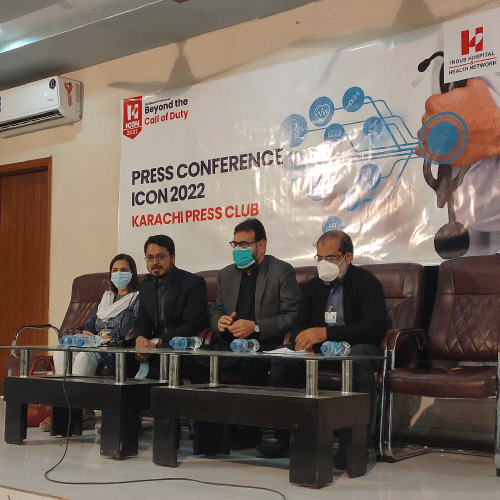 Karachi, Pakistan
January 13, 2020
The Indus Hospital & Health Network (IHHN) organized a Press Conference about ICON 2022 on Thursday, January 13, 2022, at the Karachi Press Club. ICON is IHHN's flagship scientific conference which takes place biennially. The current conference is the sixth of the series. The conference aims at disseminating research-based recommendations and will be reflecting upon and synthesizing current healthcare scenarios along with identifying challenges for the future.
ICON 2022 will be held from January 20-23, 2022 in Karachi with the theme of 'Beyond the Call of Duty. Due to the pandemic, the conference is being held virtually. Before the conference, pre-conference workshops and scientific sessions are taking place throughout IHHN facilities in Pakistan to provide theoretical and practical training on the most pertinent topics in public health. During January 21-23, 2022, three plenary sessions will take place. These sessions will be featuring renowned national and international speakers who will join in a panel discussion with IHHN faculty in hybrid sessions that will cover the patient-centric healthcare ecosystem; the importance of mass communication across the healthcare sector; and COVID-19 vaccine distribution and the way forward.
Dr. Abdul Bari Khan, Chief Executive Officer, IHHN; Dr. Kashif Shazlee, Consultant & Chair, Imaging Service Radiology and Chair ICON 2022; and Dr. Syed Ahmer Hamid, Consultant Pediatric Oncologist and Co-Chair ICON 2022 were present at the press conference.
While speaking at the briefing, Dr. Bari shared the journey of IHHN and how ICON started back in 2012. 'The conference will highlight initiatives taken by the Indus Hospital & Health Network to address healthcare challenges in Pakistan by bringing together disparate and like-minded institutions and individuals,' Dr. Bari said.
Dr. Kashif Shazlee said that medical science is an ever-evolving field. Diseases, in the next decade and century, would be what is unknown today. He emphasized on research for newer drugs, technologies, and treatment modalities are the only way to cope up with this ever-advancing phenomenon.
Dr. Syed Ahmer Hamid said that the conference will have overarching plenary lectures, symposia, workshops, and abstract and poster presentations. 'This global and multidisciplinary conference will be an excellent networking opportunity for medical and allied health professionals, researchers, government officials, and policy-makers,' he added.
More than 100 physical pre-conference workshops are being held in which more than 2,500 doctors and paramedical staff have been trained in different medical specialties. Top-of-the-line international and national speakers will be speaking at about 55 scientific sessions. During the inauguration ceremony, IHHN will also host the Postgraduate Medical Education Convocation 2022. A mushaira is also being organized to entertain the faculty and guests. The conference is being supported by more than 30 pharmaceutical companies and other corporate partners.
The ICON team welcomed reporters and editors to attend the conference and take part in the most distinguished academic and scientific conference in the country.
Read More: