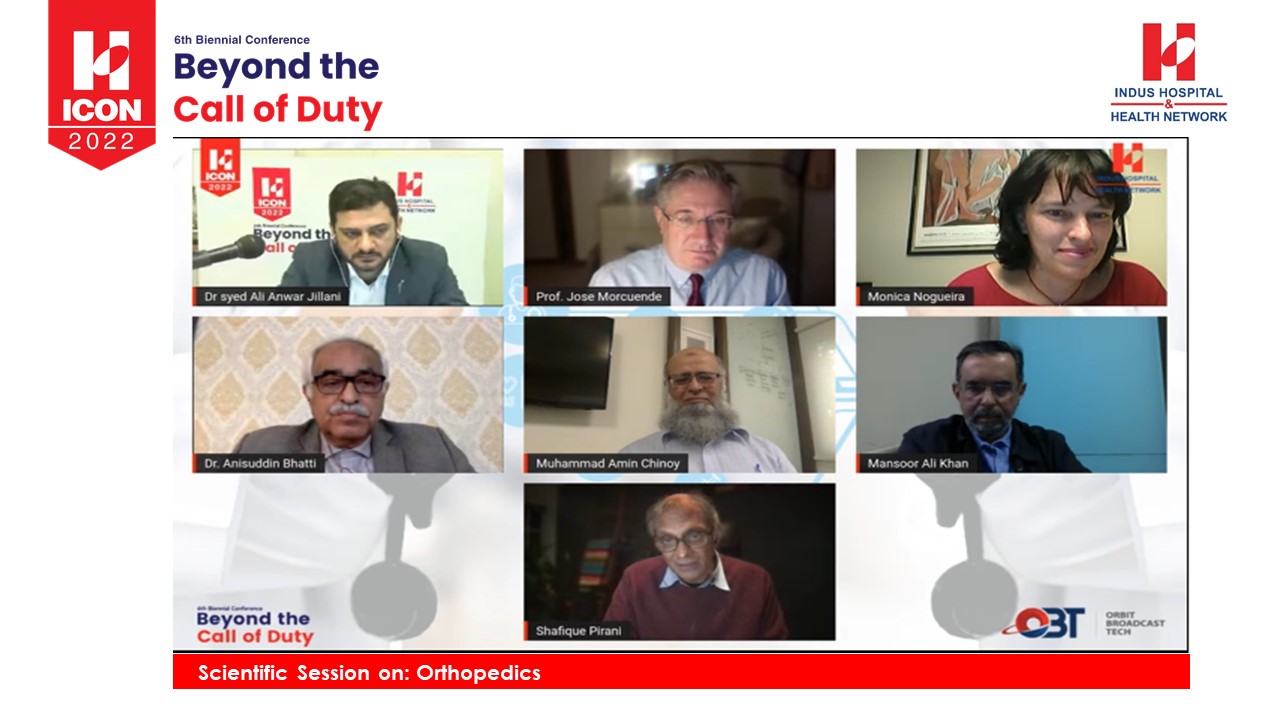 The Indus Hospital & Health Network (IHHN) is organizing the sixth biennial scientific conference – ICON 2022. The conference is being held at the Korangi Campus from January 20-23, 2022. More than 100 pre-conference workshops, about 50 scientific sessions, and three plenary sessions are also being held at various locations of IHHN.
On January 22, 2022, two scientific sessions were held on Orthopedics at the Korangi Campus. Orthopedics deals with the diagnosis, correction, prevention, and treatment of patients with deformities such as bones, joints, muscles, ligaments, tendons, nerves, and skin.
Chaired by Dr. Syed Ali Anwar Jillani, the first session on orthopedics opened with a welcome note by Dr. Syed Kamran Ahmed.
Professor Jose A. Morcuende started the session by giving a global perspective of the Ponseti Method of Club Foot treatment, followed by Principles of congenital talipes equinovarus (CTEV) Management – Ponseti Method by Professor Shafique Pirani. Professor Mansoor Ali Khan shared how they started the treatment at Indus and where they are today, while Professor Anees-Uddin- Bhatti spoke about Pakistan Clubfoot Registry – Integral Part of Clubfoot: Disability Prevention Program.
The second session on orthopedics started with Professor Amin Chinoy talking about an introduction to CTEV treatment algorithms and late presenting Club Foot in children. Professor Mehtab Pirwani talked about relapsed and recurrent Club Foot treatment with Professor Monica Paschoal Nogueira speaking about syndromic and myelodysplastic club feet and their treatment. Asif Peracha discussed post-surgical recurrent Club Foot treatment and Nusrat Rasheed about adult neglected CTEV treatment. Dr. Kamran Ahmed delivered the last talk of the session on the cost of CTEV treatment by the Ponseti Method. The session ended with a panel discussion.