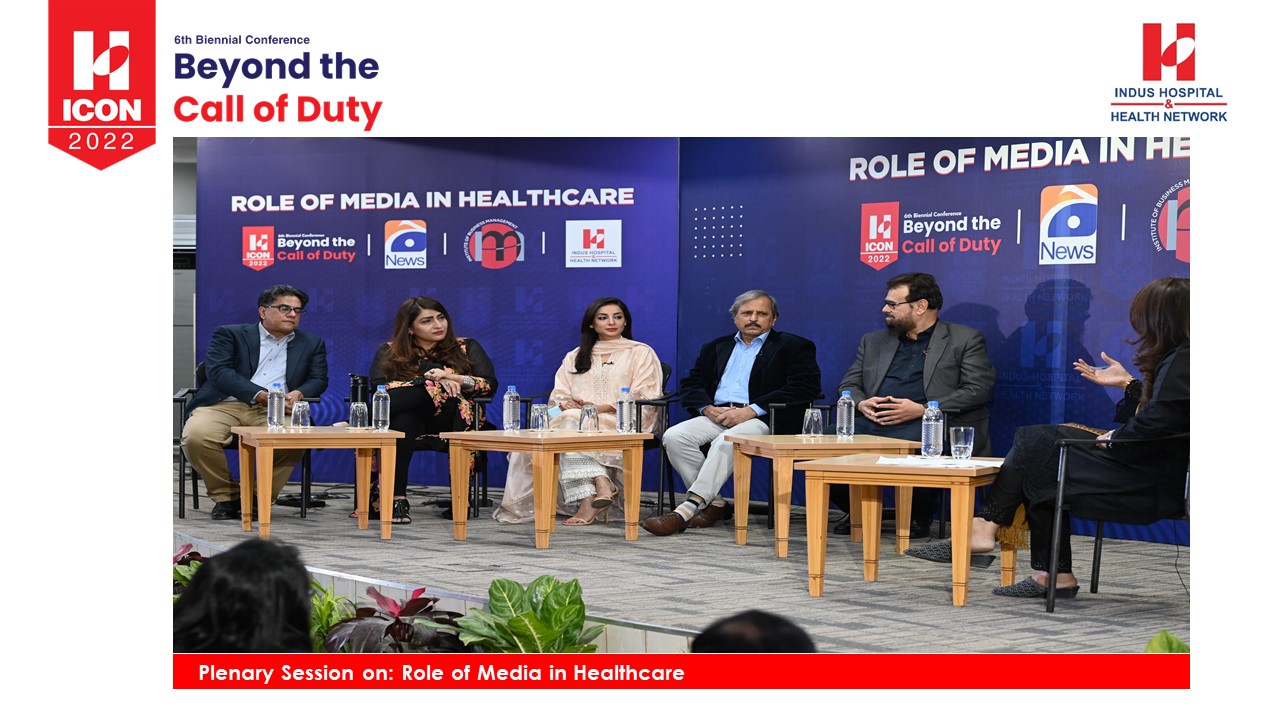 The Indus Hospital & Health Network's (IHHN) sixth biennial conference, ICON 2022 ended with a thought-provoking discussion centering on the role of media in healthcare. The third and the final plenary session, moderated by journalist and former Geo News anchor Najia Ashar brought together stakeholders from the medical and media fraternity to reach a solution.
Mazhar Abbas, senior journalist; Kamal Siddiqui, journalist and former director of Centre for Excellence in Journalism, IBA; Dr. Asima Faisal, Head of Department, MBA Health Management Program, Institute of Business Management (IoBM); Dr. Abdul Bari Khan, Chief Executive Officer, IHHN and actor Sarwat Gillani.
Dr. Faisal Sultan, Special Assistant to the Prime Minister on National Health Services sent a video message.
Dr. Kashif Shazlee started the session by thanking the panelists. He shared how mass media plays an important role in healthcare.
According to Mazhar Abbas, reporters are always racing against time to report the news. "The reporters are more concerned with publishing a story. They are more focused on the footage and what y can get out there."
"On the other hand, the doctor is under constant pressure from media, cameraman, patients, and the public opinion. COVID-19 is an abnormal situation. In a normal situation there's a huge line in the ICU and ER," he adds. "It needs to be a collective effort on the part of all news channels to provide a united message and coverage."
Speaking about the world of entertainment, actor Sarwat Gillani said, everyone, did their part during the COVID-19 pandemic. "The fashion world came together during the pandemic. From donating to paying homage, everyone did their part.
When asked does the entertainment sector has a part to play in getting the news out there, Dr. Bari said, there's a drawback to dramas and films. "I believe they [dramas] have a responsibility to create awareness and educate public."
Moving on to the education sector, Dr. Asiam Faisal said there is a dire need for students to be taught health journalism. "The job market and how educational facilities have to adapt to the market. The media industry should hire independent investigators and proper healthcare professionals. Students don't study it because there is no demand for this [health reporting] as a job," she added.
Moving on to the international media and how it is ahead of its counterparts, Kamal Siddiqi said that looking back at the last two years of COVID-19 the media was in disarray because they had no experience dealing with this kind of pandemic outbreak.
"Based off feedback, the media is a rat race chasing political stories. Should we have better health reporters? We absolutely should. But the news has been sensationalized," he said.
Mazhar Abbas added that journalists should be more informed and educate themselves. "We don't necessarily need specialized doctors for these stories. Organizations like CNN train their journalists about the stories they cover so that they're informed."
In closing, Mazhar Abbas said the role of media should send a message that creates awareness to the public about dengue, polio etc. He added that journalists should be more investigative to find the truth within the ethical and legal boundaries.
Dr. Asima emphasized fact-checking news before sending news forward. Kamal Siddiqi added that disinformation is the biggest challenge. "It's not always evil intentions, sometimes just the lack of understanding," he added.
In Pakistan, where the use of mass media is rampant in all social strata, it is important to consider the treatment our media gives to healthcare issues. The existence, or lack thereof, of exclusive channels dedicated to responsible health promotion on radio and television and time slots for specific health-related information, amongst others, needs to be reflected upon, particularly in light of healthcare being a leading pressing need in Pakistan.
"Health journalism has always been important but in a pandemic, mass communication and the need to have credible and consistent sources of information is crucial, more than perhaps ordinary circumstances. And so therefore during COVID-19, the role of media to ensure that we were able to propagate accurate, credible and scientific messages to the public became ever so important," Dr. Sultan said in his message.
He added that the media played a crucial role in getting the message out.
The SAPM added that there were many reporters who have knowledge of the subject and the health system, however, there was a scientific side that has to be understood because science changes all the time. "It is very important to have a refresher course to ensure journalists are updated with the latest information."
During the COVID-19 pandemic, for example, while print and electronic media in Pakistan are to be applauded for their proactive control of fake and potentially harmful information, social media was a different story altogether. 'Informal' media such as WhatsApp, by and large acts as a free agent. In the COVID-19 context and beyond, the abundance of health-related content and the rapidity of its dissemination over social-media platforms means that the news and information presented for consumption does not pass through the filters of responsible media.
About ICON
ICON is IHHN's flagship biennial conference. The conference is designed for IHHN paramedics, researchers, and other healthcare professionals to introduce and showcase their works and connect with other local and global healthcare community members to share and learn from varying experiences. ICON has since become a platform that showcases IHHN's achievements, its unique work, and its team's involvement in innovative research projects.
ICON 2022 was held from January 20-23, 2022, in Karachi with the theme of 'Beyond the Call of Duty. The conference is the first to be held virtually, with the pre-conference workshops and scientific sessions being conducted throughout IHHN facilities across Pakistan. The conference partnered with more than 30 pharmaceutical companies and other corporate partners.