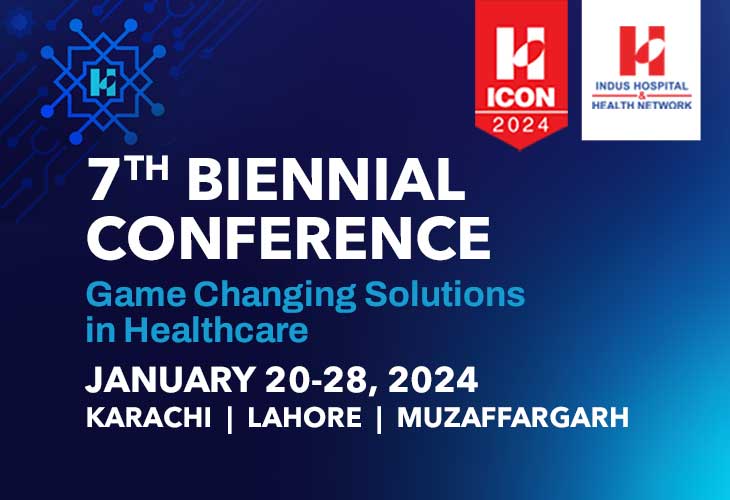 ICON 2024 will be the seventh biennial conference held by the Indus Hospital & Health Network (IHHN). Commencing from January 20 2024, the 8-day convention will highlight the best of the medical care system across the different facilities of IHHN in Pakistan including Karachi, Lahore, and Muzaffargarh with a focus on plenary and scientific sessions, workshops and presentations.
Over the eight days, we will be hosting leading academics in the field and practicing professionals who will impart their skills and knowledge to colleagues, students and various individuals contributing to the field.
With drastically changing dynamics, the theme for ICON 2024 focuses on game-changing solutions within the healthcare sector. As part of its multidimensional approach, the summit will touch upon three pivotal factors:
Technology-driven healthcare
Collaborative Partnership
Re-inventing healthcare
We will explore the possibilities of meaningful collaborations through public-private partnerships that have helped IHHN develop a nation-wide network of several hospitals and health facilities as it sheds light on the significance of healthcare architecture and its effective utilization. This edition will also dive deep into the realm of AI and its profound impact on diagnosis, treatment and holistic patient management. It will be an exploration of collaborative care models and advancements in technology which will contribute to accessible and personalized care within IHHN and across Pakistan.
As we mark our calendar for Pakistan's biggest conference, IHHN will provide the stage for this open discourse on cutting-edge advancements and transformative ideas that will revolutionize the healthcare industry and how these best practices can be contextually adopted in Pakistan.