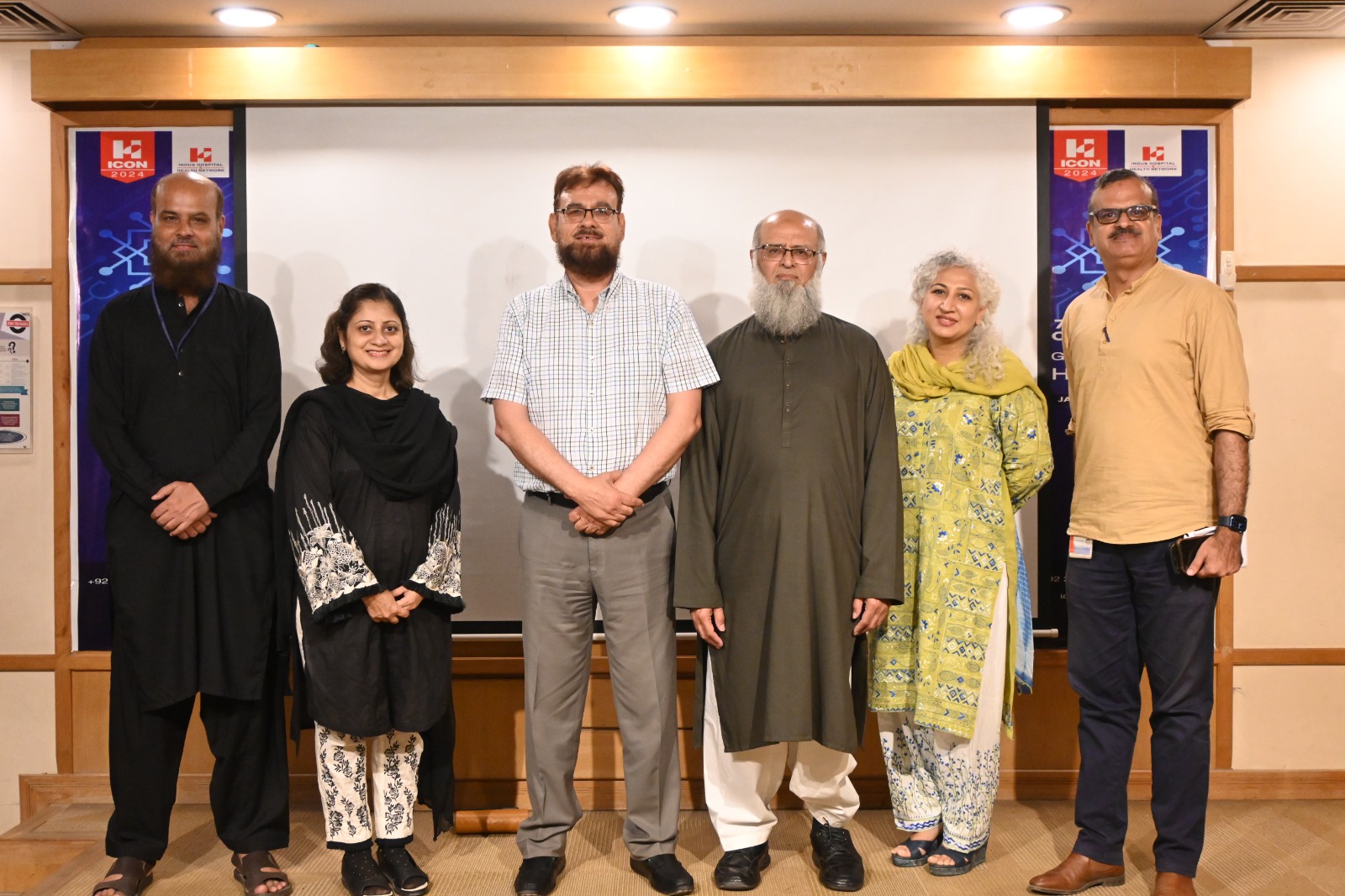 Karachi, July 15, 2023 – The Indus Hospital and Health Network (IHHN) organized a Sponsors' Meetup Event in preparation for the highly anticipated ICON 2024 conference. The event, held at the Indus Hospital's Korangi Campus, brought together IHHN's esteemed sponsors and supporters, including pharmaceutical groups, who have partnered with the organization in hosting previous ICON events.
Distinguished figures from IHHN graced the occasion, including Dr. Abdul Bari Khan, President of IHHN; Dr. Amin Chinoy, Executive Director for Physical and Rehabilitation Directorate, IHHN; Dr. Saima Ali, the Chair of ICON 2024 and Head of the Emergency Department at Indus Hospital – Korangi Campus; Dr. Saima Saeed, Co-Chair of ICON 2024 Scientific Session and Director of the Lung Health Program at IHHN; Dr. Muhammad Fareeduddin, Co-Chair of ICON 2024 Finance & Marketing and Chair of Pediatric Services at Indus Hospital – Korangi Campus; and Mr. Naveed Ahmed, Co-Chair of ICON 2024 Event Management, and Senior Manager Operations – Clinical Services Management, Medical Directorate at IHHN.
During the event, the esteemed guests were provided with an overview of ICON 24, the 7th Biennial Conference organized by the Indus Hospital & Health Network. As a truly national conference, ICON 2024 will be hosted across multiple cities in Pakistan, including Karachi, Lahore, and Muzaffargarh. The theme for this year's conference, "Game-changing Solutions in Healthcare," aims to explore the integration of medical innovation, collaboration, technology, and artificial intelligence.
Scheduled to commence from January 20 -28, 2024, ICON 2024 aims to bring together healthcare professionals, students, researchers from across Pakistan, as well as subject experts and policymakers from around the world. The conference will serve as a platform for sharing research, evidence-based healthcare initiatives, and fostering engagement within the medical fraternity.
Dr. Saima Ali, in her welcoming address, expressed her gratitude to all attendees for their unwavering support. She also emphasized the importance of participation and urged everyone to visit the conference's website for regular updates, stating, "I would encourage all of you to be a part of this landmark event and witness history being made."
Following the briefing, a question & answer session was held with the sponsors to address any queries and concerns. The Indus Hospital and Health Network expressed deep appreciation for the participants who gathered to raise support for ICON 2024. The upcoming conference promises to be an exceptional gathering, uniting healthcare visionaries and experts to showcase the best in medical research and practice. The conference will revolve around three main themes: Technology-driven Healthcare, Collaborative Partnerships, and Reinventing Primary Care.
By participating in ICON 2024, attendees will have the opportunity to explore cutting-edge advancements and transformative ideas that are revolutionizing the healthcare industry. Moreover, the conference will shed light on the significance of healthcare architecture and highlight the effective utilization of state-of-the-art facilities by IHHN, ultimately enhancing the patient experience.