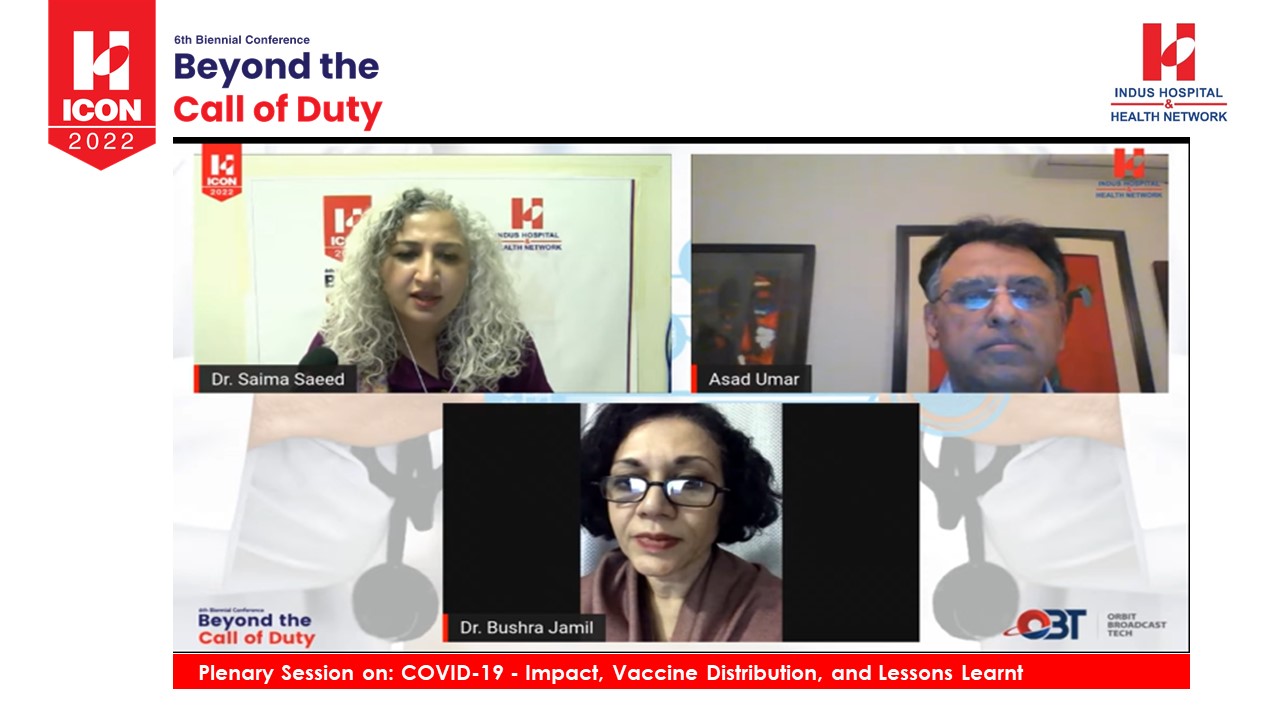 The Indus Hospital & Health Network's (IHHN) flagship academic and scientific conference, ICON 2022, is being taking place in Karachi. The sixth biennial conference has served the scientific and medical fraternity for over a decade. This conference's theme is 'Beyond the Call of Duty.'
In order to start a dialogue about the most crucial issues the country is facing, IHHN also organized three plenary sessions. The second plenary session was about COVID-19, and the title was COVID-19 – Impact, Vaccine Distribution, and Lessons Learnt. The session was organized on January 22, 2022. The session was moderated by Dr. Saima Saeed, Senior Pulmonologist and Director, Lung Health Program at Indus Hospital & Health Network. Some distinguished speakers attended the session: Asad Umar, Minister for Planning, Development & Special Initiatives and Chair, NCOC; Dr. Bushra Jamil, Professor of Medicine, Aga Khan University Hospital; Dr. Rodrigo Mena Fluhmann, Professor of the Institute of Social Studies of Erasmus University Rotterdam; Professor Anna Mia Ekström, Clinical Professor in Infectious Diseases at Karolinska Institutet (KI) and Venhälsan, Södersjukhuset, Sweden; Professor Lucille H Blumberg, Vice-chair, WHO Committee for Review of the International Health Regulations during COVID-19.
The world has experienced several pandemics in history, some of which have, thankfully, become obsolete due to scientific research and intervention. However, unfortunately, we have not been successful in controlling the elusive SARS CoV-2, as it continues to rage across continents and is still perceived as having an uncertain future for the citizens of the world. The scientific literature on COVID-19 is replete with information about the virus's taxonomy, clinical sequelae, and management and control. Yet, the world remains apprehensive over its future effects on human health and the world economy. The identification of variants and introduction of potent vaccines has done much to mitigate its clinical course, but as of this time the future of COVID-19 remains uncertain.
Given the bitter experiences with zoonosis-borne diseases, coupled with the fear of drastic climate change, there is a looming sense of foreboding that more resistant microorganisms may again take hold of our lives. The questions that arise are: are scientists aware of possibilities of new and emerging infections; is there evidence to support this misgiving; can we preempt them; will there be cooperation among scientists globally to tackle these possibilities. Scientists worldwide are working faster than ever to develop and produce vaccines that can stop the spread of COVID-19, with 21 vaccines now being rolled out in countries worldwide.
Several affluent countries signed advance contracts with a variety of companies, securing the lion's share of initial doses and using influence to ensure that companies with local manufacturing plans were the first to deliver vaccines with proven efficacy before final trial results were in. A number of middle-income countries managed to procure enough supply to inoculate significant portions of their populations. But, the poorest nations are still waiting for their part of vaccines. Because of their lack of influence, the poorest nations depend on supplies largely on COVAX, an initiative backed by groups including WHO that was designed to provide fair access to the shots for every country. The COVAX facility is the largest vaccine supply operation, working to ensure that all countries and territories participating in the facility have equitable access to COVID-19 vaccines. COVAX uses funding provided by governments and donors to make its own contracts with vaccine manufacturers, however they have fallen short of targets and there is looming concern that the flow of supply to the neediest countries would be interrupted by high-income nations to offer booster shots to people who have already been inoculated and to younger children.
The plenary session participants also discussed staying ahead of emerging infectious diseases in the future; impact of COVID-19 on health, education and economics on Pakistan's population; and COVID Vaccine distribution globally, and how COVAX manages it. During the discussion, speakers talked about pandemics in the past, lessons learnt from the current pandemic; anticipated future infectious threats; how has COVID impacted our society; preparing the country for the long haul as COVID becomes endemic; global COVID-19 vaccine distribution strategy; inequitable distribution of vaccine and its impact; COVAX and its management of vaccine distribution