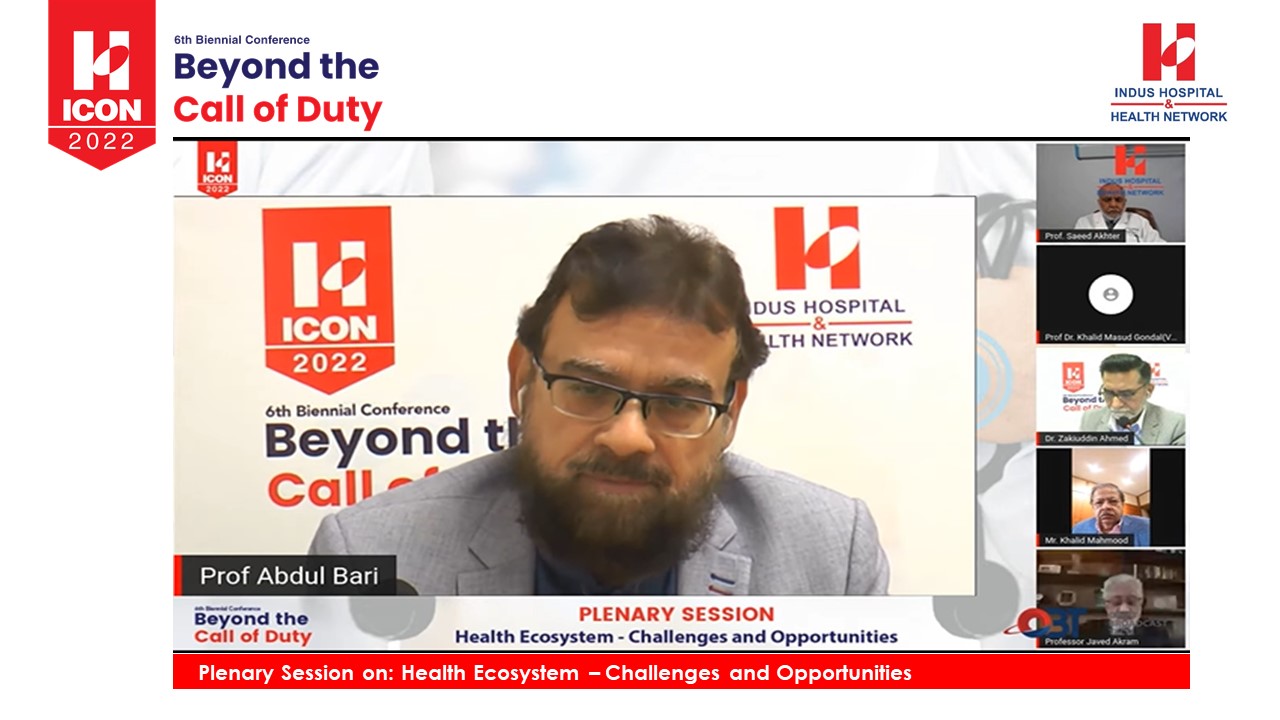 Karachi, Pakistan:
The Indus Hospital & Health Network's (IHHN) signature conference, ICON 2022, held its first plenary session at the Korangi Campus, Karachi. The plenary session aimed to initiate a conversation on the various aspects and challenges of the health ecosystem, namely patient safety, quality services, physician burnout, antibiotic resistance, and infection prevention, among many others. It discussed how technology-led and patient-centered healthcare provides opportunities for improvement.
Dr. Zakiuddin Ahmed, Chief Executive Officer, Digital Care and Project Director of Riphah Institute of Healthcare Improvement & Safety, moderated the session with the speakers consisting of Dr. Abdul Bari Khan, Chief Executive Officer, IHHN; Dr. Arshad Taqi, President, Pakistan Medical Commission; Dr. Saeed Akhtar, Chief Executive Officer, Life Savers Foundation Pakistan; Khalid Mahmood, Managing Director, Getz Pharma; Professor Dr. Javed Akram, Vice-Chancellor, University of Health Sciences; and Professor Khalid Masood Gondal, Councilor, College of Physicians and Surgeons.
Dr. Zakiuddin explained how one of the biggest threats to global health is antibiotic resistance. Historically, antibiotics have been widely prescribed, and resistance to these medicines is rising to dangerously high levels. Widespread overuse and misuse of antibiotics have led to unintended consequences, which in turn require large-scale changes of policy for mitigation. The causes and effects of antibiotics in the environment, both in terms of the evolution and spread of antibiotic resistance, as well as the direct impact of antibiotics on environmental pollutants. When physicians are unwell, the health ecosystem is suffering too. Burnout in physicians is characterized by emotional exhaustion, ineffectiveness, and a tendency to view patients, students, and colleagues as objects rather than human beings. As a result, everyone pays the price. Physician burnout is more than feeling run-down; it is a serious business problem with consequences for doctors, allied health professionals, patients, and the entire healthcare ecosystem. Importantly, trusted doctor-patient relationships weaken due to physician burnout as patients are left with doctors who are too exhausted with little to no compassion to offer. With so much at stake, addressing physician burnout is no longer a nice to do for healthcare executives – it is a must-do. However, human resource initiatives or wellness programs alone cannot cure physician burnout. A systemic ailment demands an integrated and holistic solution. To address physician burnout is to address a deteriorating global health ecosystem.
The panel discussion was open for questions and answers, with several Indus Staff adding their feedback and observations. Dr. Lubna Mushtaque, Quality Improvement and Patient Safety of IHHN, wrote, "The healthcare ecosystem is complex and broad many organizations are working in silos to bring them on board for the development of health Ecosystem in Pakistan can bridge the gap, public-private partnership at a larger level will be the paradigm shift."
Dr. Salman Imtiaz, Nephrology Department of IHHN, commented how "Cuban, Venezuelan and Korean health ecosystems are different from developed countries with an excellent health outcome index. Why do we not try to opt for these models?"
Dr. Abdul Bari Khan concluded the session with a brief history of Indus' origins and discussed the healthcare scenario at the time that led to Indus' creation. He stressed the importance of working together to help improve healthcare in Pakistan. "The healthcare challenges in Pakistan are so great that no single sector can resolve it by themselves. These health indicators will not improve unless a collaborative effort by the public, private and non-profit sector works together."
Dr. Zakiuddin thanked all the speakers for lending their expertise and insights on this subject. In addition, he gave his admiration and warm regards to Dr. Bari and Indus Hospital & Health Network for conducting a successful ICON conference and looked forward to the remaining two days of ICON 2022, which will host 34 scientific sessions and two plenary sessions.